About Battle Road Independent Equity Research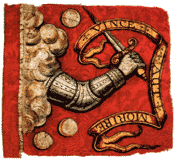 "Our clients can rely on research free from the influence of investment banking and company management." – Ben Z. Rose, President, Battle Road Research
Battle Road Research is an equity research firm that provides fund managers and analysts with an independent voice on technology and consumer stocks. Our name commemorates the 18 mile stretch between Boston and Concord, where the American Revolution began, and is meant to be a metaphor of research independence from investment banking.
Our research process combines rigorous financial analysis with insights gleaned from publicly-available industry data. The firm was started by Ben Z. Rose in October of 2001. Prior to Battle Road, Rose had been a senior analyst and principal at Boston-based Adams, Harkness & Hill for five years, where he covered software and internet stocks. Before that he was a senior analyst at Tucker Anthony & R.L. Day (now a part of RBC) for five years, where he began the firm's software sector coverage.
Since our inception Battle Road Research has adhered to three principles:
no investment banking
no company commissioned reports
no personal investment in the stocks we research.
We believe that our independence is critical to our success, and makes us different from our competition. We are not an investment bank. Therefore, our clients know that our research conclusions and recommendations cannot be manipulated in order to curry favor with an existing or future investment banking client. Since we do not operate a trading desk, our clients can rely on us not to upgrade or downgrade a stock simply to cross a block trade. Despite the trend toward company-sponsored research, our clients can rely on the fact that we do not receive compensation from any company that we research. Our sole mission from our inception in 2001 has been and remains the same: help our clients seek out stocks to buy and stocks to avoid.
Our research service is The Battle Road Advisory, which features company-specific reports on technology and consumer stocks. We currently publish over 90 reports each year on stocks across our Software, Manufacturing Technology, Electric Vehicle and Internet and Consumer sector coverage. All of our reports are Buy, Hold, or Sell rated since our clients like to know which stocks we like, and which stocks we would avoid. We cover an eclectic mix of mostly small and mid-cap stocks, along with a sprinkling of large cap sector leaders. Overall, we see ourselves as an independent input into our clients' investment process.
We also publish the Battle Road IPO Review (www.battleroadiporeview), a monthly screen for new research ideas in the technology, consumer, EV and manufacturing, and business services sectors, based on a unique universe of more than 250 growth-oriented IPOs of the last thirteen years. Our Exploration List is the sub-set of the stocks in the universe that we like as long ideas. Our clients utilize the Battle Road IPO Review as a way to keep apprised of recently-minted IPOs, a source of new investment ideas, including over-heated and orphaned-IPOs, as well as a screen for company management meetings.
Ben Z. Rose founded Battle Road Research in October of 2001, following 10 years as a software and internet securities analyst. Mr. Rose started the Software research effort at Boston-based Tucker Anthony (now a division of Royal Bank of Canada) in July of 1991, which included early coverage of software icons Microsoft, Adobe Systems, Symantec, and Parametric Technology. As a senior analyst at Adams, Harkness & Hill, from 1995 through 2001, he followed small and mid-cap software and internet companies, helping to propel the firm's widely-respected technology stock coverage, and rose from the position of Vice President to Principal of the firm. Prior to entering the securities industry, Rose spent four years as a technical marketing and business planning analyst for two of the Computer Aided Design and Manufacturing industry's pioneering companies: Applicon and Computervision.
Rose has been quoted in The Wall Street Journal, and has appeared as a guest on CNBC, Bloomberg Television, and has provided on-air stock market commentary for NECN. He has also participated in the Bloomberg Technology Roundtable. At Battle Road, Rose oversees the company's research coverage, leads its sales and marketing efforts, while researching technology and consumer stocks. He holds a B.A. in international affairs from George Washington University, and an M.B.A. from the University of Michigan.