Electric Vehicles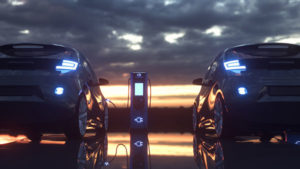 The electric vehicle (EV) market is still in its nascent stages, and comprises roughly ten percent of all cars sold globally. Virtually every automotive manufacturer in the world is pursuing a variety of hybrid and EV strategies, in an effort to meet consumer demand, as well as comply with government regulators, who continue to pressure the industry to achieve better mileage standards, and reduce carbon emissions at the same time.
What began as a trickle with a lone, two-seat sports car manufactured by Tesla Motors, the EV segment has become the fastest growing portion of the global transportation industry. Legacy manufacturers of internal combustion engine cars and trucks such as General Motors, Ford Motor, Stellantis, Mazda, Porsche and many others, including Toyota, NIssan, and Volvo, are plowing billions of dollars into investments in research, development, and factories to create the next generation of EV cars and trucks.
Competition in the pickup truck market in North America remains intense, as manufacturers vie for a piece of the roughly 10 million light pickup trucks sold each year. As the first all-electric pickup truck Rivian had a temporary first mover advantage. However, Ford has entered the market with the Ford F-150 Lightning, which was unveiled in May of 2022. GM is also marketing the GMC Hummer and GMC Sierra as part of its pickup truck push. Tesla remains focused on launching its Cybertruck, likely in 2023.
The Inflation Reduction Act is likely to become a major catalyst for the domestic automotive manufacturing industry, as the law extends up to $7,500 in tax credits on electric vehicles that have their final assembly in the U.S., including electric vans, SUVs, pickup trucks, and passenger cars. In addition to strict limits around household income in order to receive a tax credit for purchasing an EV, the law lays out specific criteria relating to the percentage of battery components made in the U.S., a provision designed to incentivize domestic car companies to keep production in the U.S., and global manufacturers to build production plants in the country.