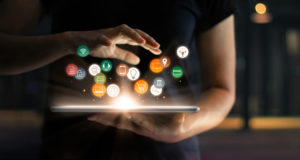 Our Internet and Consumer coverage features our longstanding coverage of Meta Platforms, formerly Facebook, as Battle Road was one of the first research firms to publish on the company during its post-IPO quiet period, when forty investment banks and their conjoined research departments were prevented from writing about the company. Meta Platforms' audience of more than two billion people, we believe will ultimately embrace some form of virtual reality in which the fundamental user interface for social interaction shifts from the smartphone, a world dominated by Apple and Samsung, to a more immersive experience, such as goggles or an eyeglass-like device that provides a greater sense of in-the-moment interaction.
Internet commerce and consumer electronics is another longstanding focus for Battle Road. The COVID-19 pandemic accelerated the secular shift to ecommerce. While Amazon.com was of course a great beneficiary of brick and mortar store closings in the U.S. and Europe, brick and mortar retailers dramatically improved their ecommerce capabilities by investing in websites and logistics in order to retain customers who could no longer shop in person.
Post pandemic, brick and mortar storefronts across a broad range of product and services categories, including restaurants, movie theaters, as well as mass merchants, have seen a resurgence in business, as many consumers want to congregate and shop in person, rather than over their desktops and iphones.
At the same time, the secular shift to ecommerce continues, with both retailers and brands grappling with the best way to reach customers. No longer content to allow Amazon to dictate the terms of customer relationships, many product companies have revised their selling strategies, in particular enabling customers to buy products from their own websites, in what is referred to as a direct to consumer (DTC) model. In many cases, product companies now offer software subscriptions, consumables and services that tie the customer to the company. Our internet and consumer coverage focuses on an eclectic mix of social media, consumer electronics companies, and etailers.