About Battle Road Independent Equity Research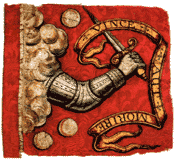 "Our clients can rely on research free from the influence of investment banking and company management." – Ben Z. Rose, President, Battle Road Research
Battle Road Research provides fund managers and analysts with an independent voice on technology, and  consumer stocks. Our name commemorates the Battle Road, an eighteen mile stretch between Concord and Boston, where the War of Independence began.
Over the years we have developed a unique research process which blends rigorous financial analysis with insights gleaned from industry sources. Since our founding in October, 2001, we have refrained from investment banking, company-paid reports, and personal investment in stocks within our research coverage—all of which we believe are at odds with the interests of our clients.
We believe that our independence is critical to our success, and makes us different from our competition. We are not an investment bank, and our clients know that our research recommendations will not be manipulated in order to curry favor with an existing or future investment banking client. Since we do not operate a trading desk, our clients can rely on us not to upgrade or downgrade a stock simply to cross a block trade. Our clients can rely on the fact that we do not receive compensation from any company that we research. Our sole mission from day one has been, and remains the same: help our clients seek out stocks to buy and stocks to avoid.
From our roots in providing research on software stocks, we have expanded our coverage to include internet, data center, manufacturing tech, and consumer product companies.
Battle Road Research was among the founding members of the Investorside Research Association in July of 2002, and has since grown to more than 70 member firms. Investorside is the only trade group that certifies its members to be free of investment banking, consulting, and research for hire conflicts. We are gratified to have received three Research Excellence awards for company-specific analysis in each of the last three years from Investorside, including the award for Thought Leadership in Technology.
Ben Z. Rose founded Battle Road Research in October of 2001, following 10 years as a software and internet securities analyst. Mr. Rose started the software research effort at Boston-based Tucker Anthony (now a division of RBC), in July of 1991. As a principal at Adams, Harkness & Hill, Rose followed a wide variety of software and internet companies. He has been quoted in the Wall Street Journal, and has appeared as a guest on CNBC, Bloomberg Television, and periodically provides stock market analysis for NECN. He has also participated in the Bloomberg Technology Roundtable. At Battle Road, Rose oversees the company's entire coverage, leads its sales and marketing efforts, and covers 13 technology stocks. He holds a B.A. from George Washington University, and an MBA from the University of Michigan.