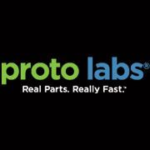 With trailing twelve month sales of $289 million, and a market cap of roughly $1.6 billion, Proto Labs, based in Maple Plain Minnesota, is the largest provider of quick turn manufacturing services, with offerings for plastic and metal-machined parts. Through the use of patented technology for plastic injection molding and CNC machining, as well as an advanced web-based ordering system, PRLB is an outsourced partner to its more than 8,000 customers, who seek help in creating prototypes as well as production runs of up to 10,000 parts. In addition, PRLB has acquired a couple of companies that provide 3D printed part services, which collectively account for about 13 percent of sales.
Proto Labs provides customers with the crucial benefits of faster time to market, improved product quality, and the ability to quickly customize low volume production runs. With seven manufacturing facilities around the world, Proto Labs derives less than 25 percent of its revenue from overseas operations. The company's customers include manufacturers and designers of medical devices, cars, aerospace, defense, and aviation products, as well as consumer electronics, and industrial machinery. Each quarter, Proto Labs conducts a high level of repeat business within its customer base, typically around 80 percent. Importantly, no customer accounted for more than two percent of sales in 2015.
Large industrial manufacturers have been reluctant in the past, for a variety of reasons, to outsource prototyping and production. The reasons relate to the desire to maintain captive production of prototypes and custom parts, and the preference to keep low volume manufacturing in house. However, the trend toward mass customization, in which consumers desire near custom-built products in smaller quantities with fast turnaround times is at odds with the core competency of many manufacturers who are unable to achieve the desired unit costs that come with low volume production. Outsourcing production also allows companies to concentrate on other core competencies, such as product design, marketing, distribution, and customer service.
However, recent challenges attendant to soft demand in the industrial machinery vertical, as well as challenges in integrating the Alphaform 3D printed parts service will weigh on sales growth and margin expansion.
Proto Labs: Recent Developments
Soft Demand in North America
Proto Labs' Q2 revenue of $75 million grew by 17 percent over the prior, including the results of Alphaform, a 3-D printing operation which was acquired last year, and contributed nearly $5 million in revenue in Q2. US revenue, which accounts for 74 percent of sales, grew by just six percent versus the prior year, the slowest rate in a couple of years. Despite the fact that no single customer accounts for more than two percent of sales, Proto Labs is seeing weakness in its top 20 accounts, and cited industrial and commercial equipment as particularly soft verticals in the quarter. Importantly, plastic, rubber and die cast injection molders and machine shops, who normally outsource prototypes and low volume production runs to Proto Labs, are now doing more in-house manufacturing of these parts and prototypes, due to their own excess capacity.
Proto Labs is also seeing project delays. CNC Machining operations, which normally account for about a quarter of quarterly sales, were relatively weak, rising by just seven percent over the prior year. Bright spots during the quarter include relatively strong performance from both Europe and Japan, which account for 23 percent, and three percent of sales, respectively. Europe, excluding the contribution from Alphaform, grew by 24 percent, and Japan grew by 46 percent.
Despite a soft quarter, Proto Labs' quality of reporting remains consistently strong. During the second quarter PRLB generated $20 million in cash from operations and allocated $14.1 million to capital expenditures, of which $8 million were for facilities, as the company is adding capacity in North Carolina, and in Japan. As a result, cash on the balance sheet increased by $7 million on a sequential basis.
Alphaform Impact
Alphaform, a German-based 3D printing operation acquired at the end of 2015, remains an integral part of Proto Labs' strategy to accelerate its European operations in the 3D printed parts services business. 3D printing contributed $9.1 million in revenue in Q2, flat with the preceding quarter, and up 67 percent versus the prior year. However, the growth was almost entirely due to the addition of Alphaform last year. When excluding the $4.8 million contribution from Alphaform, 3-D printer revenue growth was nominal.
Alphaform diluted the company's gross margin by 310 basis points, a pattern which has been the case since the company was acquired. The lingering impact of certain Alphaform contracts with lower gross margins, as well as several niche businesses such as metal and magnesium injection molding, which are in the process of being discontinued by Proto Labs, contributed to relatively weak margins in the quarter.
Sales Management Disruption
Back in April of 2016, Proto Labs disclosed that its VP of global sales had resigned. Since then, the company has been hiring new sales managers, in an effort to reduce the ratio of sales managers to sales people. Proto Labs has also engaged a consulting firm to examine its sales processes and recommend new ones, pending their conclusions. The company is also in the process of hiring a new chief revenue officer, which it expects to do by the end of the calendar year.
Prognosis
Despite the above-mentioned growth pains, overall, we see Proto Labs as among the best positioned manufacturing technology companies. Proto Labs maintains a strong balance sheet, with total cash and securities of $164 million, or $6.18 in cash per share, and no debt. The company maintains a conservative current ratio of 6.3, and accounts receivable DSOs were a modest 41 days at the end of the quarter, up by just a day versus the prior year. Return on equity was 15 percent on a trailing twelve month basis, consistent with prior periods. Importantly, Proto Labs has done nothing to stretch its quarterly performance, and maintains a high quality of reporting integrity. The company's expertise in manufacturing materials and production should continue to position it well for the long term.