iRobot: Leading the Revolution in Consumer Robots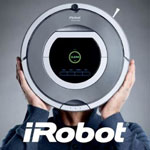 iRobot is the dominant provider of home vacuum robots, with an estimated market share exceeding 60 percent around the globe. Since the Roomba began shipping in 2002, iRobot has sold over nine million units, and the category continues to grow, as evidenced by the company's 15 percent growth rate in consumer robots in the second quarter. The Roomba product line features six models, which range in price (at retail) from $300 to $700. The product features a range of cleaning capabilities, and is sold through a broad range of home retailers, including the most prominent ones in the US. Our recent review of a prominent ecommerce website indicated that iRobot recently held seven of the top eight slots for home robots.
The Roomba 880, the most recent addition to the home vacuum robot product line, is priced at retail for $700 and demonstrates iRobot's technology leadership. Utilizing revolutionary aeroforce extractors, essentially "bristleless" brushes, the product removes up to 50 percent more dust, dirt, hair and debris, and has 5x more power than previous Roomba models. The Roomba 880 is the company's fastest selling vacuum robot model, accounts for more than 25 percent of sales—despite its higher price point relative to other Roomba models—and features higher gross margins than other models.
The Roomba accounts for an estimated 90 percent of iRobot's consumer product sales. iRobot also sells robots for floor mopping and floor scrubbing. Floor mopping robots, acquired via Mint a couple of years ago, have since been re-branded as the Braava product line. Although these models have generally not been as successful as the Roomba, they are growing. Other home robots include the Looj gutter cleaning robot, and Mirra pool cleaning robot.
Defense and Security Robots May Present New Opportunities
For the first ten years of its corporate history, iRobot focused primarily on robots for defense and security missions, including the PackBot, a tactical mobile robot which rescue workers deployed at the World Trade Center following the September 11, 2001 terrorist attacks. The following year PackBot was deployed with US troops in Afghanistan. In 2004, IRBT began development of a small unmanned ground vehicle,  dubbed the SUGV, which has been used in US combat missions in Iraq and Afghanistan. As recently as 2011, defense and security robots accounted for 40 percent of the company's revenue.
iRobot continues to see lackluster growth in this sector, though visibility appears to be improving. We are forecasting that D&S will contribute roughly seven percent of sales for 2014. Sales to the US DoD account for about half of the D&S business, and other markets include the sale of defense and first responder robots to Canadian, European, Latin American, and Asian governments. Disaster recovery is an important market opportunity, and, as we understand it, the company's robots are still being used in Japan for post recovery cleanup of its nuclear reactor disaster.
Remote Presence Robots on the Horizon
iRobot is in the earliest stages of pioneering a new market for remote presence robots. Applications have been developed for telemedicine and team collaboration. iRobot's RP-VITA allows physicians to diagnose patients from remote locations. The product is sold by InTouch Health.  The Ava 500 video collaboration market is sold through Cisco Systems' (NASDAQ: CSCO) reseller channel. Early use cases for the Ava 500 include enterprise team collaboration, where the robot can follow team members from room to room, rather than remaining stationary in a conference room. Other uses include customer briefing centers, clean rooms, corporate training, and manufacturing, for remote shop floor inspection. The new robots appear to be at least a year away from significant customer adoption, though the technology holds much promise for consumer applications.
 Competition
iRobot continues to dominate the $250 plus market for consumer robots, through its Roomba, Braava and Mint product lines. We believe this is the largest segment for home robots based on our review of ecommerce data. iRobot has little competition in this market in the US, save for Neato, a privately-held company. Elsewhere, the company faces indigenous competitors, such as Dirt Devil's Free Time hard floor robot vacuum cleaner in the UK. This robot retails for the equivalent of roughly $130, providing competition at the low end of the market.
About a month ago, Dyson, the large UK based manufacturer of premium upright vacuum cleaners, hand dryers, heaters, and bladeless fans, announced its 360 Eye, its first ever robot vacuum cleaner. The product, which is to be released in Japan in the first quarter of 2015, with no time table yet stated for Europe or the US, is a vision-based robot equipped with a camera, and operates on a lithium ion battery with an unknown charge time. The product allows for remote scheduling via iPhones and Android devices, and will be priced at the retail equivalent of about $1,000 US.
The 360 Eye is evidently the result of a multi-year, multi-million dollar investment by Dyson, a company which had, at one time, been dismissive of the opportunity for home robots. Our view is that the product will no doubt provide iRobot with competition in Japan, which accounts for 20 percent of iRobot's sales in any given quarter.
Dyson's 360 Eye will sell at a 25 percent price premium to iRobot's highest priced robot, and is well more than twice the price of many of iRobot's models. It remains unclear when the product will reach the US and Europe, though we are sure Dyson has plans to enter these markets. At this time it is unclear whether Dyson has violated any of iRobot's 300 overseas patents, which do not expire, according to our understanding until at least 2021. iRobot's models allow for scheduling at various intervals during the day, though it does not yet offer remote scheduling via mobile devices. While it remains unclear whether Dyson's cyclone suction technology or iRobot's revolutionary aeroforce extractors will win the day, we expect a spirited battle.
Conclusion
iRobotcontinues to see solid growth from its Roomba line of home vacuum robots, in which it holds a dominant market share. A new version of the Roomba combined with other new and recently introduced home robots underscore the progress the company is making to expand its global footprint. Other consumer robots already on the market and presumably roaming around in its R&D labs also carry potential. The company's defense and security business remains soft, though it has been down-sized to a near break-even level, and will contribute less than 10 percent of sales. It may yet stage a rebound, which would give the Bedford Massachusetts robotics pioneer two solid legs on which to stand.
Comments
There are no comments on this entry.