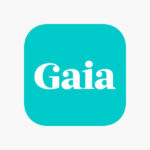 "If we want to set out on the arduous search for the truth, we must all summon up the courage to leave the lines along which we have thought until now, and as the first step begin to doubt everything that we previously accepted as correct and true. "
—Erich von Daniken
With trailing 12-month sales of $40 million and a market cap of roughly $220 million, Gaia, based in Boulder, Colorado, is a leading provider of new age streaming video services. With over 500,000 subscribers to its monthly service, the company focuses on several genres, including yoga, seeking truth, transformation, and alternative healing, and thus occupies a unique niche within the streaming content landscape. The company boasts over 8,000 titles, 90 percent of which are unique to Gaia. Subscribers reside in 185 countries, with about 30 percent of revenue coming from international markets.
Though the majority of viewership is focused on several thousand titles in its library, no single title accounts for more than one percent of viewership. The company continues to create new video content in its Colorado studios.
Gaia was founded as Gaiam in 1988 in Boulder, Colorado by entrepreneur Jirka Rysavy, who was also a founder of Corporate Express, and Crystal Market, a natural foods market later acquired by Wild Oats Market.  Gaiam began with a mission to provide products to those in pursuit of a healthy lifestyle and a respect for the environment, based on ecological sustainability, consistent with the corporate ethos of other Boulder-based companies, such as Wild Oats Market, and Celestial Seasonings. Gaiam, the company's original name, came about as the fusion of Gaia, the ancient Greek deity, who represented the idea of the earth as a living system, and "I am," meant to evoke a sense of connectedness with the planet.
2016 was a transformational year for Gaiam. In May, the company sold its equity interest in Natural Habitat, its eco-travel subsidiary, for $13 million in cash. Later that month it announced the sale of its Gaiam Brand business to Sequential Brands Group (NASDAQ: SQBG) for $167 million. The sale included the company's branded yoga, fitness and wellness consumer products, and content, with the exclusion of the streaming rights to that content. The sale of its branded products business allowed Gaiam to focus exclusively on streaming video services and DVD distribution, and the company changed its name to Gaia. The new company utilized $77 million to repurchase 9.6 million Class A common stock shares, and 840,000 vested stock options at  a fixed price of $7.75 per share in a tender offer completed in July of 2016. This transaction reduced its shares outstanding from 24.6 million to 15 million. By the end of 2016, Gaia had over 200,000 subscribers to its internet video service.
In March of 2018, Gaia executed a secondary stock offering, and sold 2.3 million Class A common shares at $15 per share. In connection with the offering, certain directors and officers of the company agreed to purchase roughly 135,000 shares. Gaia's advisor for the transaction was Roth Capital Partners. The offering was led by B. Riley FBR, Lake Street Capital Markets, and Dougherty & Company. Gaia used a portion of the $32 million in net proceeds to pay down $12.5 million in debt. In early September of 2018, Gaia announced that it was about to cross the 500,000 subscriber mark, which compared to 311,000 subscribers in the prior year, and marked a major milestone in its quest to achieve one million subscribers by the end of 2019.
Gaia has taken an aggressive approach to marketing by investing 90 to 120 percent of streaming revenue in the last few quarters in customer acquisition as part of its goal to sign up one million subscribers by the end of next year.  Year to date revenue has grown an impressive 58 percent, though its operating losses have widened to $25 million, from $19 million over the same period last year. The company currently intends to utilize most of the $31 million in cash on its balance sheet, along with a secured line of credit of $12 million to aggressively target new customers over the course of the coming year, with the intent of letting its cash balance fall to between $2 and $5 million, before it begins to generate profit on a consistent basis.
Gaia recently launched a new channel, focused on alternative healing, drawing upon roughly 1,000 titles from its existing library, in an effort to more effectively merchandise the content, and attract new subscribers with interest in this segment. The company also intends to launch a new premium service that will be priced in the vicinity of $299 per year, which will include access to live events.